I had a Logitech QuickCam for Notebooks laying around for web chats.  I recently replaced it with a Microsoft LifeCam VX-800 in an attempt to address from audio feedback issues.  I also have an old Toshiba Protégé TabletPC.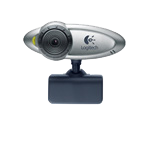 I connected the QuickCam to the TabletPC and then installed the demo version of ImageSalsa.  I read through the ImageSalsa manual.  I created a new portfolio and a new canvas.  I followed the instruction to enable the camera and add it as a graphic.  I was able to see the video feed in ImageSalsa.  I did a text overlay of the date and time.
The first issue I had was the image appeared to be fuzzy.  I wasn't sure if it was the software or the TabletPC screen.  But then I remembered the QuickCam has a manual focus ring.  I played with that and was able to get a sharper image but still wasn't happy with the sky image.  It was an overcast afternoon but the clouds were completely washed out in ImageSalsa.  The resolution was only 320 x 240 which I thought might have something to do with it.
I decided to try the LifeCam next.  This time the image was completely wrong like the RGB values were off.  I did some web searching and found a reference on Microsoft's knowledge base that there may be driver issues if a Logitech camera was installed first.  So, I uninstalled the Logitech drivers but the image was still wrong.  I also looked for LifeCam drivers but there weren't any for this model.
I did some more research and also found many new web cameras that had auto-focus and HD resolution.  I started to think that if I am going to go through all the effort to setup a weather camera, maybe I should have a decent camera.